When it comes to new construction, framing is where your building begins to take shape. Once you have plans in hand, it's your building's framing that makes those blueprints come to life. A building's frame is the skeleton that supports all of the finishing features, like drywall, doors, windows, and even your roof.
If you're trying your hand at constructing an outbuilding like a garage, shed or pole barn, you'll need to understand the basic components of wall framing before you get started. If you've hired someone to build your new home, it's also helpful to know the following terms, so you can understand what your builder is talking about as your home building process begins.
There's a lot to know about framing a home, so here are a few basic framing terms to help you get started:
Wall Panel
In framing construction, a wall panel refers to the panel or structure that makes up the framing for one wall of a home. In its most basic form, a wall panel is a large, framed rectangle made up of a top and bottom plate and studs (usually wood or metal beams). Wall panels that incorporate windows and doors feature additional components that you'll learn about in this blog.
Plates
On any wall panel or framing piece, the beams that run horizontal at the very top and bottom of the frame are called plates. At the top of a wall panel you have a top plate, and at the bottom you'll have a bottom plate. Studs are attached to plates, and studs and plates combined form a wall panel.
Studs
Studs are framing members that run vertically from top plate to bottom plate. They are usually spaced 16 or 24 inches apart, from center to center, and are one of the most common components of a wall panel. Studs structure and offer much of the support for a wall panel.
Joists
A joist is a horizontal framing member that runs across the length of the floor or platform of a home. Joists are the support for the floor of your home and make up the platform that your wall panels will eventually be affixed to. We partner with LP Building Products to bring their LP I-Joist systems to single-family and multi-family buildings throughout Michigan and Northern Indiana.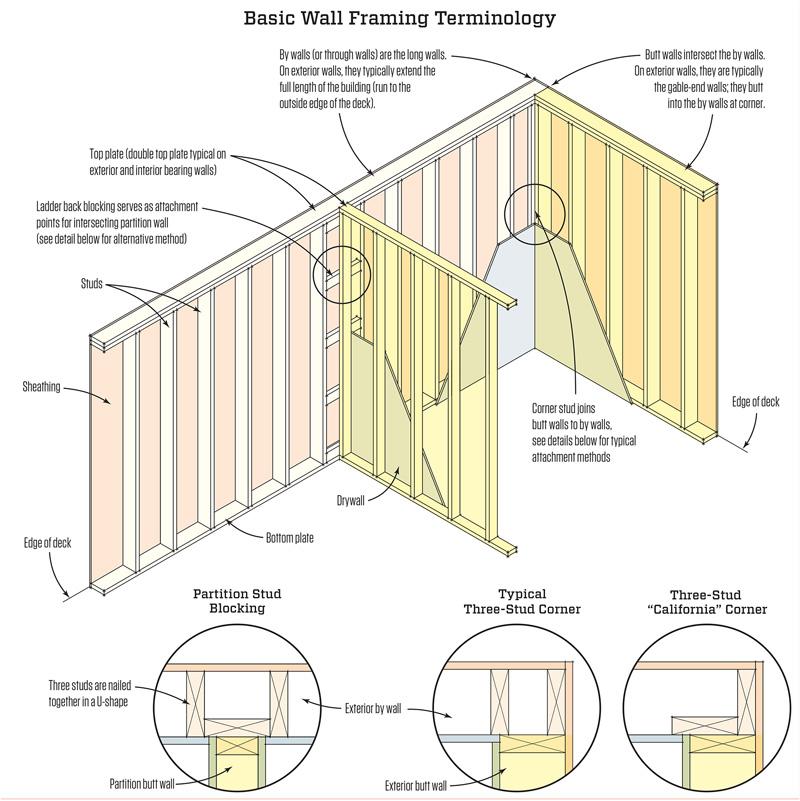 Photo Courtesy of JLC Online
By-Walls
Also known as a through wall, a by-wall extends all the way to the outside edge of a house.
Butt Walls
Butt walls are wall panels that butt up against by-walls at the exterior corner of a home.
Intersecting Walls
An intersecting wall is any wall that intersects with another. In most framing situations, intersecting walls butt up against an exterior or through wall to divide interior space. For example, the wall that divides a home's guest bedroom from the bathroom is an intersecting wall.
Ladder Back
A ladder back is used to attach intersecting walls to an exterior framing wall. Two studs are joined by short horizontal pieces attached at consistent intervals down the length of the studs. When completed, a ladder back looks much like a ladder. An intersecting wall panel is easily attached to the exterior wall through each of these small horizontal ladder back blocks.
Partition Stud
A partition stud is used in the same way as a ladder back. It offers another way to affix a partition or intersecting wall to an exterior wall. A partition stud is made up of three studs nailed together in a U-shape. The intersecting wall is affixed to the central stud.
Corner Stud
A corner stud is any configuration of studs joined together to affix butt walls to by walls. There are a number of ways to solidly construct corners using studs.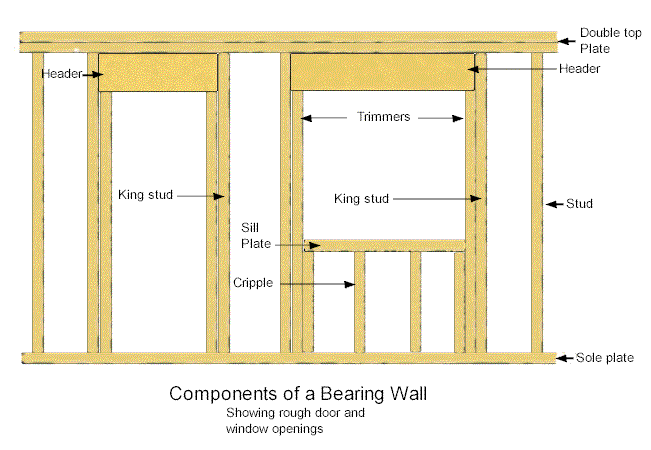 Photo Courtesy of Wonderful Woodworking
 Header
Headers are horizontal framing members most commonly installed over a window or door opening. They are used for openings that are greater in width than standard stud spacing, and function to support the load above the opening of a window or door.
Sill or Saddle
This is a horizontal framing member installed at the bottom of an opening (usually a window opening). Window frames will rest on the sill or saddle.
Cripples
Cripples are vertical framing members that support a sill or saddle. They are installed at points where a common stud would have stood if not for the window opening. Cripples provide support for the window and the sill it rests on.
Trimmers
Also called jacks, trimmers run vertically from the header to the sill of a window opening and are attached to the larger "king stud" that runs the entire length of the wall panel or frame. Jacks or trimmers transfer the load that the header carries down to the framing and bottom plate beneath.
Manufactured Wall Panels
Manufactured wall panels are complete panels that can be delivered directly to your job site. Whether you're a homeowner hoping to DIY a small outbuilding, or a contractor who needs to solve time and labor constraints, manufactured wall panels offer you the structure and support you need, without hours of on-site construction.
Through our Zeeland Truss & Components team, we produce high-quality manufactured wall panels perfect for any job. With technical specialists on our team who work exclusively in wall panel design and a tightly controlled factory setting, our wall panels are manufactured to the highest quality standards and delivered to you upon completion. From there, your framing work is simplified and efficiencies are gained.
We have all the materials you need for framing, and our team is here to make it easier for you to deliver great homes to the consumer. If you're considering manufactured wall panels for your next job or project, visit one of our locations to get started today!