Therma-Tru is the nation's leading manufacturer of fiberglass and steel exterior door systems. They brought the first fiberglass exterior door to the world back in 1983, and have continued to supply the market with exterior doors that feature exceptional durability and unrivaled style. Zeeland Lumber & Supply is proud to offer a wide selection of Therma-Tru's products to our customers, for exterior doors that suit any style or investment level.
Benefits of Therma-Tru Fiberglass Doors
Therma-Tru supplies a full range of exterior door styles and finishes. No matter which Therma-Tru product you choose, rest assured that you'll receive a product of the highest quality. Here are just a few of the benefits you'll enjoy when you install one of Therma-Tru's top-of-the-line exterior doors:  
Weather Resistance
Therma-Tru door systems are designed with top and bottom composite rails to keep bad weather, rain, wind, and snow out. Therma-Tru's rails block any moisture that could seep into doors, preventing water damage around door frames and within your home.
Security
Your exterior door is your home's first barrier between your family and the outside world. Therma-Tru ensures that barrier is secure, with both an enhanced lock block and a 1-¼" engineered lumber lock stile that combine to increase the rigidity and stability of your exterior door.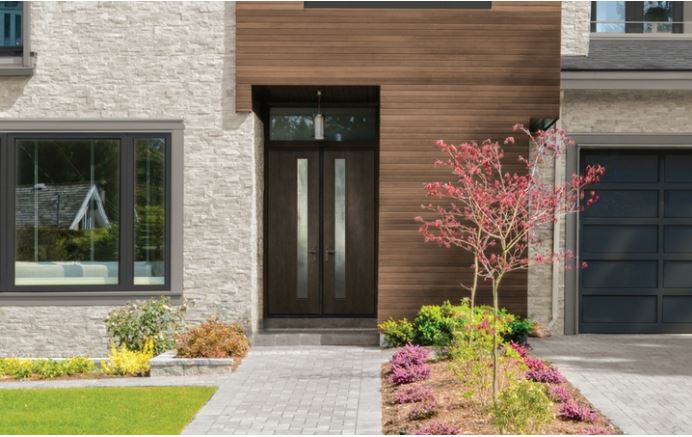 Durability
Therma-Tru fiberglass is the premier market material for durable, long-lasting exterior doors. Fiberglass does not warp, rot, dent, or rust. A Therma-Tru exterior door won't just keep your home safe — it will also preserve its original color and quality for years to come.
R-Values
As your home's first barrier between you and the outside world, your front exterior door has to perform well. Therma-Tru exterior doors are constructed with an insulating foam core that provides as much as four times the R-value of wood. Therma-Tru's fiberglass doors offer top-of-the-line energy efficiency against both the heat and the cold.
Have questions about Therma-Tru?
Why Choose Therma-Tru Doors?
There are a number of exterior door companies on the market; what sets Therma-Tru apart?
At Zeeland Lumber & Supply, we work hard to supply our customers with the best products on the market. Here are just a few of the reasons we carry Therma-Tru exterior doors, and why we think you'll love a Therma-Tru door for your next project:
The Durability Of Fiberglass
No one does fiberglass better than Therma-Tru. They invented the first fiberglass exterior door, and there's a reason it's still so popular today. Fiberglass doors can easily mimic the appearance of wood or any other material, with none of the drawbacks. Fiberglass doesn't rot, warp, dent, or rust, and it needs very little care to maintain. Best of all, Therma-Tru fiberglass doors boast an R-value that's nearly 4 times higher than wood, keeping your home warm in the winter, and cool in the summer.
A Complete Door System
A door is only as good as the parts that hold it in place. We love that Therma-Tru manufactures complete door systems — everything from glass to hinges to sills. This ensures every consumer receives the highest quality door system, one that's built to work together, and offers the best in quality and security for years to come.
Performance Tested
Therma-Tru has supplied the best exterior doors on the market for years, for good reason. They are continually testing and improving their products to guarantee every homeowner an exterior door that exemplifies the best in quality and durability. Therma-Tru doors are tested for every circumstance imaginable. From extreme weather to serious door slamming to UV light weathering, Therma-Tru puts each of their products through a full range of tests that ensure your Therma Tru door can withstand anything life throws at it.
Comprehensive Product Warranty
Therma-Tru offers the most comprehensive warranty on the market. Each and every one of their fiberglass door systems are backed by a limited lifetime warranty. An exterior door is an investment. Therma-Tru helps protect that investment with a complete product warranty you just won't find anywhere else.
Environmentally Responsible
Therma-Tru offers some of the most beautiful, high-performing exterior doors on the market. And you can feel good about them. Therma-Tru has long been dedicated to environmental responsibility. They use recycled products for their composite door parts, recycle as much of their facility's waste as possible, and partner with ethical wood suppliers to ensure that any wood product comes from a managed forest. Finally, all of Therma-Tru's fiberglass entry door systems are Energy Star compliant, helping more homeowners protect the environment while saving money on energy costs.
Therma-Tru Selections Offered by Zeeland Lumber & Supply
Classic-Craft Collection
Rated a Consumers Digest Best Buy, Therma-Tru's Classic-Craft premium fiberglass entryways are recognized for their exceptional construction and warranty. This line of Therma-Tru doors is built to resemble an authentic wood door in look, feel, and sound. The Classic-Craft line comes in five collections, ensuring you find the exterior door perfect for your home and style.
Fiber-Classic Collection
Therma-Tru's Fiber-Classic collection is the one that started it all. Their flagship Fiber-Classic Oak launched the company and was soon joined by the Fiber-Classic Mahogany collection. Now complete with two distinct wood grain options that suit any homeowner's taste, this collection of fiberglass doors is certain to suit any consumer looking for a wood door without the maintenance.
Smooth-Star Doors
The Therma-Tru Smooth-Star Collection was designed for those looking for a splash of color. The entire collection comes in a smooth, paintable surface that you can customize to suit your own home and unique taste. Whether you want a blue door, a purple door, or a stained wood color door, Smooth-Star is the customizable, durable fiberglass alternative option for you. No need to prime, and budget-friendly, this is the collection for those with their sights set on something new.
Profiles Steel Doors
For a customizable, affordable front entry or house-to-garage door, Therma-Tru's Profiles collection is a great option. Offering durability and security, these steel doors feature triple-shadowed and 24-gauge panel embossments for greater detail and a ready-to-paint surface. Whether you're looking to make a statement, or need a fire-rated option for your house-to-garage door, a Therma-Tru Profiles door can get the job done.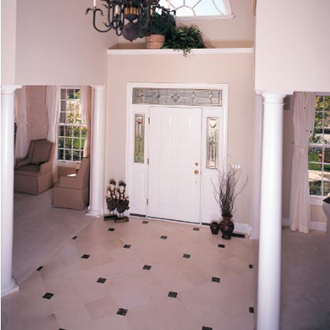 Traditions Steel Doors
For a cost-conscious, durable door guaranteed to stand the tests of time, turn to Therma-Tru's Traditions line of steel doors. Traditions doors offer a standard embossed smooth surface that arrives ready to paint, and they come in a variety of sizes, so you get the perfect exterior or house-to-garage door at an affordable price.